Of course, HTML tags play a preeminent role in whatever you do on your website. But, unless you're an expert, coding is something that would make it a little difficult to understand for the beginners. In fact, developers like us have been looking forward to allowing users into formatting their text without having to worry upon the HTML code behind. The WYSIWYG HTML editors have been the in demand these days. Let us check out the best WYSIWYG HTML editors for your requirements. If you are experienced with HTML and want an advanced editor software to create, design, modify and develop web pages, look no further.
Free Top 5 HTML Editors for Windows 10
A good HTML editor makes web developing easier. For those who do not have in-depth knowledge of HTML, as they offer convenience and added functionality. A good HTML editor must do two things very well:
 Syntax highlighting (coloration of the code) and
 Auto-completion
So here are the Free Top 5 HTML Editors for Windows 10:
1. Kompozer: (Windows/Mac/Linux, Free)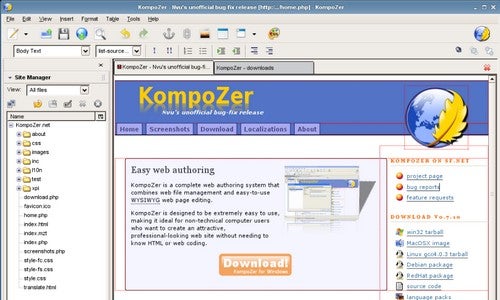 2. Notepad + +: A free source code editor which supports several programming languages running under the MS Windows environment.
3. Adobe Dreamweaver: Cost about 200$ and is one of the best IDE for Windows & Mac.
4. Amaya: Amaya can create and update documents directly on the Web. Browsing features are seamlessly integrated with the editing and remote access features in a uniform environment.
5.  Microsoft Expression Web: Expression Web is a full-featured professional tool for designing, developing, and publishing compelling, feature-rich websites that conform to web standards.
Best Free WYSIWYG HTML Editor for Windows 10
There are several WYSIWYG HTML editors you can put to use if you are not comfortable with the code based editors. In fact, these editors will make your task easier enough. We will focus on the free WYSIWYG editors that have been wonderfully excellent.
We are sure that those who are looking for the free WYSIWYG HTML editors do so just because they do not feel at ease with the HTML coding and other complications. We have chosen our top picks for the feature-rich and functional free WYSIWYG HTML editors based on the simplicity and ease of use.
TrellianWebPage
It is one of the favorite web editors that provides you with an exceptional WYSIWYG functionality. It also offers you an image editing functionality within the tool.
Some of the features worthy of mentioning can be
Compatibility with Photoshop plugins.
Free, yet powerful editor – it supports drag and drops functionality
The tool is easy to use with a simple interface
You also have access to a built-in spell checker
It also comes with an SEO Toolkit that helps you improve the ranking of search engines.
Seamonkey
Coming from Mozilla, it can be your best friend for all your application suite. It offers you several functions including a web browser, email client, composer and an HTML webpage editor.
A few features that are offered by Seamonkey include
It includes a web browser making it easy to test your work
You have access to FTP capability to make it easy to upload your web pages.
The service keeps receiving regular maintenance updates.
It supports the latest technology like HTML5
The service supports over 26 languages.
The free HTML editor is available for Mac OS X, Windows, and Linux. You can consider it as your one-stop solution for all your internet needs.
Google Web Designer
Coming from Google, this is an excellent option for your free HTML editor. The service is still in Beta and has been receiving constant updates on a regular basis.
Some of the excellent options that the tool offer you can be summed up as
It provides you with everything that you expect from a WYSIWYG HTML editor.
It offers you an SEO benefit, thanks to the fact being it is from Google.
You can also create Google ads with the tool.
It supports editing CSS< JavaScript and XML files.
The tool is supported on Chrome, Firefox and Internet Explorer.
We would treat it as one of the excellent options because of the Google connection. It offers you multiple functionalities than being just an HTML editor alone.
Amaya Home Page
Amaya is more of a W3C editor. An open source program, it is available for Windows, Mac OS X, and  Unix.  The development of the program is no longer on, but the tool offers you exceptional performance.
What did we like about this tool? Here are our reasons –
It supports multiple HTML standards including HTML 4.01, XHTML 1.0, MathML 2.0 and CSS 2 features.
It offers you seamless integration with editing and remote access functionality.
You can check the validation of your HTML codes as you work through them.
The tree structure that it offers you is an excellent addition in its own right.
If you want to make your site work with the WC standards, this is the best you can opt for.
It can be a little outdated for your needs. The stopped development can be one of the reasons.
TinyMCE
If you are looking for the best JavaScript-based HTML5 WYSIWYG editor, TinyMCE should be your best option. You can customize your themes and plugins as per your needs.
Here are a few features that would make it an excellent option for all your HTML needs –
It offers you an entirely Microsoft Word like experience.
It is a free online WYSIWYG HTML editor.
It provides you with a basic simplified interface.
This should be your best bet for all your HTML editing needs. Ability to handle HTML 5 should be a strong point that the tool comes with.
KompoZer
It is a powerful WYSIWYG editor for all your HTML editing requirements. It is a simple and easy to use the option that can simplify your tasks.
Some of the tasks we liked the most include
You have excellent support for HTML, JavaScript, XML, and
It is based on the favorite Nvu editor.
The easy to use interface makes creating your web pages a breezy affair.
The editor has a host of features that includes a tab, a color picker, an FTP manager, CSS editor and built-in spell checker.
KompoZer is based on the Mozilla platform.
If you want to build a professional website, but do not possess enough technological knowledge – nothing can beat your needs than the excellence of KompoZer. Work with just as you would do with a word processor even when you do not know HTML.
The Concluding Thoughts
In fact, the WYSIWYG HTML editors are best suited for those who are not used to the HTML coding or are non-technical. Of course, if you do not mind a lot of heavy typing, they can be your best options for all your editing requirements.
If you are a professional and are looking for full-fledged WYSIWYG HTML editors for your website, the editors listed above should serve as your best options for all your requirements. We assume that the feature-rich HTML editors we have featured in the above discussion should be more than enough for all your editing tasks.
These are not an exhaustive list of HTML editors out there but my personal preferences. If you have some better suggestions, feel free to drop us a comment below.
Affiliate Disclosure: Faceofit.com is a participant in the Amazon Services LLC Associates Program. As an Amazon Associate we earn from qualifying purchases.