Devices communicating over Bluetooth is not just a feature, but a necessity. With more and more devices communicating over Bluetooth, compatibility issues arise. Although these devices communicate over standardized Bluetooth protocols, their behavior isn't. It is difficult (If not impossible) to test compatibility issues with all accessories, especially for the Operating System vendors. Device anomaly is a regular occurrence, and the end users face difficulties while operating them. Google's mobile operating system Android is not exempt of these issues, and this is what we will discuss in this post. Bluetooth problems date back to the first editions of Android, and till today, users have reported lots of issues online. In this post we talk about how to fix unfortunately Bluetooth share has stopped error message.
How To Fix Unfortunately Bluetooth Share Has Stopped Error
Initially, it is highly recommended to do the necessary steps first and then move onto advanced troubleshooting (Rooting, etc.). Especially for the primary users, rooting is not a good option, unless you know what you are doing. So, with expectations being set, here are the necessary steps to perform to fix unfortunately Bluetooth share has stopped error message.
#Option 1:
Step 1: Ensure that your phone/tablet's Android version is up-to-date.
Step 2: Go to Settings and scroll down to the bottom. Tap on "About" and Tab on "System Updates"
Step 3: Check and download if any updates are available.
Here are some screenshots for your reference. Do note that the menu options will differ for different Android ROM's. In our example, we are using an Asus Zenphone 2.
#Option 2:
Step 1: Try pairing the Bluetooth device with another 3rd party phone.
Step 2: If the Bluetooth device is also not pairing with the 3rd device, then the problem might be isolated to the Bluetooth device and not your phone. If the Bluetooth device is successfully paired with the 3rd device, then the problem can be isolated to your phone.
Step 3: Go to your Phone Settings>BlueTooth>Unpair & Delete the device from the List. Try deleting the device from the Bluetooth device with which you are trying to pair your phone if possible. For example, In car audio systems, you can find the list of phones with which it is configured.
#Option 3:
Try rebooting the mobile into safe mode. It might differ for different phone vendors. In our case, these are the steps:
Step 1: Press and hold the power button while the screen is On. #Reboot
Step 2: Press to keep the volume down button when the phone reboots.
Step 3: Doing this will only load the default phone apps and services.
Step 4: While the device is in safe mode, try pairing the Bluetooth device.
Note: Do note if the fix Unfortunately Bluetooth Share Has Stopped Error still persists.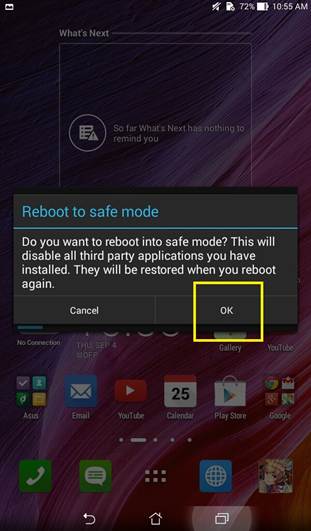 #Option 4: Requires Root access!
Before proceeding, do note that this is an advanced step and users needs to proceed with extreme caution. Any wrong file modification may result in data loss or may void your phone warranty. Here are the steps:
Step 1: Ensure that you install a File Explorer application to browse your root files.
Step 2: Turn off Bluetooth first, and browse to "/datamedia/misc/bluedroid". Look for the file called "bt_config.XML"
Step 3: Create a backup of the file or rename it to bt_config.xml_old
Step 4: Open the file in a text editor. Proceed to delete the devices listed under <N2 Tag="remote"> and </N2>. You can leave the Bluetooth devices that you intend to keep.
Step 5: Save the file as bt_config.xml in the same location. Try reconnecting to the device again.
This error is only experienced when devices running Android are exposed to a large number of unique hardware addresses (Including Bluetooth) which overwhelms the subsystem.
Conclusion
I hope that this was helpful. If the problem persists, go ahead and contact your phone manufacturer for any possible alternative solutions. Any comment, suggestions or feedbacks can be dropped below in the comment section.
Affiliate Disclosure: Faceofit.com is a participant in the Amazon Services LLC Associates Program. As an Amazon Associate we earn from qualifying purchases.